Three Tornadoes Confirmed in Maryland From Isaias
The National Weather Service in Sterling, Virginia has confirmed three tornadoes that touched down last Tuesday during Tropical Storm Isaias. No injuries or deaths were reported, but dozens of trees were snapped.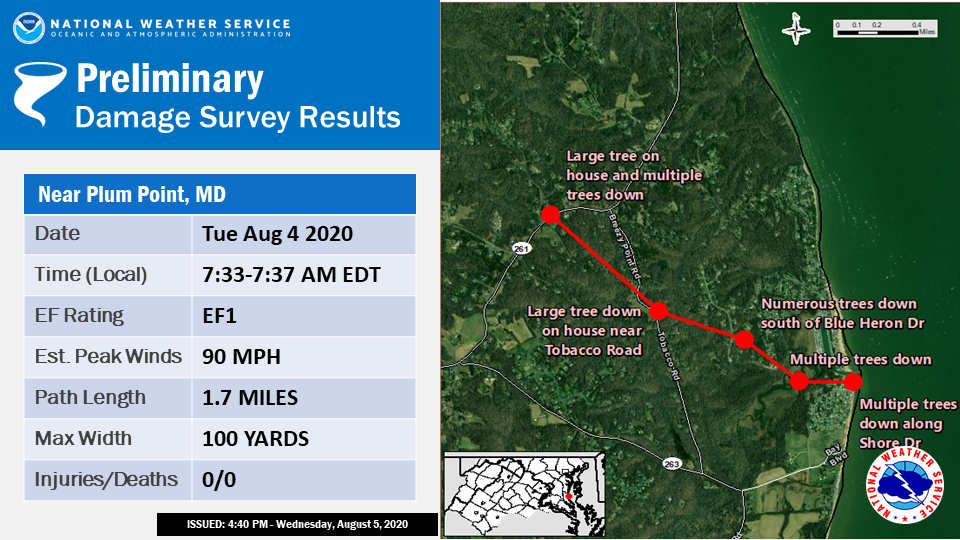 One tornado touched down around 7:30am Tuesday in Calvert County, in southern Maryland. In their report, the NWS said that the tornado was responsible for "causing trees to snap about 20 feet up and fall in multiple directions. Some trees that were snapped were a foot and a half in diameter."
"Over 30 trees were uprooted, and some were broken in half", the NWS said of this tornado.
Down in St. Mary's County, two tornadoes touched down Tuesday morning.
The first was near Scotland, Maryland.
Peak winds were near 80 mph, and a resident reported that "when the tornado passed over stated they heard a violent roaring sound, the house visibly shook, and then it was over in a matter of seconds."
The third tornado was in St. Mary's County, between Piny Point and Callaway. This one roared with 95 mph winds, between 6:32 and 6:41am Tuesday.
"Large trees were uprooted damaging a shed and a home.A mobile home/camper was blown over on its side", the report says.
Information from these surveys undergoes further evaluation, and is entered into the NWS Storm Data Archive after 60 days.
In other news, about 22,000 residents remain in a Moderate Drought, or D1. 363,000 are in abnormally dry conditions, the
U.S. Drought Monitor
is reporting. The D1 is centered over portions of the eastern seaboard, and the abnormally dry conditions are in parts of central and western Maryland, but not in Baltimore.
52.4 million people are experiencing drought across the nation, covering about 28% of U.S. land area. This includes
New Mexico
,
Colorado
,
Utah
,
Oklahoma
,
Kansas
,
Texas
,
Iowa
,
Wyoming
,
Oregon
,
Nevada
, and
California
.
Severe (D2) drought is present in
Hawaii
,
Arizona
,
New Mexico
,
Utah
,
Colorado
,
Texas
,
Oklahoma
,
Kansas
,
Iowa
,
Nebraska
,
South Dakota
,
Wyoming
,
Montana
,
Idaho
,
Washington
,
Oregon
,
California
,
Nevada
,
New York
, and
Maine
.