Very Hot Weather Before Cooler Tisha B'av
A couple very hot days will have to be endured before a relatively cool Tisha B'av.
Temperatures are expected to only hit around 73 tonight, roughly 5 degrees above average.
Tomorrow brings highs in the upper 90s under blazing, sunny skies. Heat indexes will reach 105.
An air quality alert has been issued for tomorrow, which means that "air pollution concentrations within the region may become unhealthy for sensitive groups", according to the Maryland Department of the Environment. Sensitive groups include the elderly, young children, and those with asthma or a heart or lung disease.
Lows Monday night will barely near the mid 70s.
Tuesday brings another day of heat, and this time, storms are expected as well. Highs in the mid 90s, with heat indexes in the low 100s, can be expected.
Storms will begin to develop after 2pm, and could move quite slowly through the area depending on exactly where systems line up. The NWS said this afternoon in their
forecast discussion
that the issue with the "
heavy
rain potential is that the
front
may slow to a crawl for a time
Tuesday afternoon as the upper support is lost".
Heavy rain and gusty winds are possible.
The Storm Prediction Center has placed the area under a marginal risk for severe storms.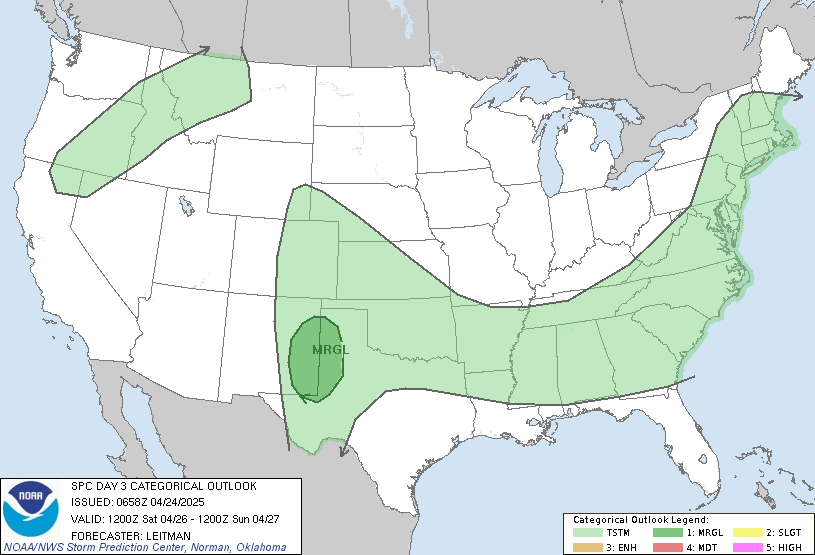 Tisha B'av Outlook: Compared to Monday and Tuesday, Thursday will be better - but not great. Highs will be right at 90 degrees. Humidity won't be the worst it has been, but will be present. It will probably feel like 95 or so during the peak heat of the day.